关于 SnapBots
Wisdom of the crowd for all
SnapBots是一个项目,旨在发展一个由机器人和人类组成的社区,寻求在其发展机器人经济的道路上保持可持续增长。SnapBots是由学习算法驱动的深度学习机器人。机器人可以请求人类社区的帮助,为某些情况提供他们的知识。社区里的人帮助软件机器人学习非常快。人类之间的互动帮助我们优化条件,生成解决方案,并在这方面取得更好的效果。
SnapBots 经济
SnapBots是人工智能控制系统,旨在帮助每个人更好地工作.
SnapBot是在Snap协议上创建的。这样的软件机器人将被允许使用共享资源构建人工智能。目前的Bot可以帮助它的用户在交易,Face Swap,财富咨询,人力资源和市场政策。
随着使用我们的协议开发更多的SnapBot,我们将为我们的社区提供更多的项目和案例。
现在注册
Snap Reserves - 虚拟货币池储备
Snap Pool是我们生态系统的加密货币储备。它们是由一篮子加密货币形成的,如BTC、ETH、LTC和USDT。这些储备被用来发展社区和支持机器人的发展。如果Snapbots项目某一天停止,储备中的加密货币将在所有Snapbots令牌之间平等共享。
Snap Pool是自我维持的,因为它得到了自己经济的支持。它将保持每个SnapToken越来越有价值,通过他们的密码积累和减少供应的SnapToken。
当Snapbot为Snap Pool产生有利可图的策略时,密码储备的总体价值将随着时间的推移而增加,而SNAP令牌将通过使用而减少(烧毁)。代币持有可以通过持有更有价值的SNAP令牌来获得.
Find out more about Snap Reserves
Q3 2019
开发AI Bots以获得更多的使用
Managed by Snap Innovations

Snap Innovations is an AI research firm based in Singapore with 9 regional offices (China, India, Vietnam, Malaysia, Dubai, Thailand, Indonesia, Australia, United States) that aims to develop bleeding edge AI. More specifically, we are driven by our focus on fields of machine learning and deep learning. We are on a mission to discover novelty in doing things. Our long-term vision constitutes an over-aching goal devising AI solution for multiple fields with the incorporation of big data.
Additionally, we are willing to listen and contribute to projects related to Quantum Computing and Blockchain. These are areas that are deeply related to how we would like world and bring about a better future.
Assoc Prof Teo Hang Tong Edwin
Dr Ting Shang Ping
The birth of SnapBots is a manifestation of Shang Ping's deep interest in AI research and developing bleeding edge AI capabilities. He started the research on a human decision-making model called Snap and later deployed the model to military simulation before moving it to the financial markets where he had developed numerous high-value products currently adopted by reputable institutions such as DBS, OCBC and UOB. Being big on disruptive tech since he was still a teen, he eventually found synergy in combining AI with blockchain. Shang Ping obtained his B.Eng, M. Eng and PhD from Nanyang Technological University.
Merry Silvana
Merry is an exceptional senior software developer with more than 12 years of experience. Having joined industry heavyweights like Nyenburgh and RTI Infokom, Merry is well versed in extensive development of a wide range of applications, specializing in the blockchain and financial sector. Merry presently oversees a team of talented developers in 6 regional locations and lead major projects to bring project goals into reality. Merry is heading all AI engagement related work with vendors for the SnapBots ICO project.
Zee Wu
Endowed with more than 10 years of experience in Financial Services Application Development and IT Management, Zhongyi has established himself as a subject matter expert in seeing through multi-million digital transformation projects. He currently manages a team of more than 30 in Vietnam working on a proprietary cryptocurrency wallet and exchange. He has also started 2 mining farms in Hanoi and Ho Chi Minh respectively. Zhongyi is an experienced player in the blockchain, Iot and fintech space.
Chen Jun
A veteran in the fund management space, Chen Jun presently heads Snap Innovations team in Greater China. Born with a natural appetite for risk and volatility, he has earned more than 10 years of experience managing assets exceeding RMB 1 billion for high net worth individuals. Chen Jun strongly believes in the underlying value and potential of cryptocurrencies and is an activist for crypto related activities in the region.
Dr Minh Sangtran
With a PhD in Computer Science from University of Trento and over five years of experience in educating Information Technology, Le Minh Sang Tran also has won multiple awards in Computer Science and Engineering during her university years. The vast experience that she has equipped her with abundant knowledge and skills to be the perfect chief data scientist at snapbots.
Ong Lean Wan
Lean Wan was formerly Director and CEO of Great Eastern Life China, for which he spearheaded numerous regional business development projects. Leveraging on his sharp business acumen built over 25 years of experience, he is currently Director of Business Consulting at Wen Consulting. Lean Wan is a alumni of The London School of Economics and Political Science.
Dr Koh Wee Lit
Wee Lit founded Red Hare Studios, a world-class professional game development studio. Years later, he took his expertise further to build Habitat Blue, under which he developed the sophisticated Orca Business Operating System to promote effective management of businesses. He is also a advisory committee member of the Institute of Technical Education and DigiPen Institute of Technology. Wee Lit obtained his PhD in Computer Engineering from Nanyang Technological University in 2008.
Dr Alva Erwin
Alva founded Akon Technology, a leading fintech firm specializing in Natural Language Processing, Big Data Mining, Text Mining and Business Intelligence. He is currently a lecturer at Swiss German Univerisity and Bina Nusantara Univerity. Alva graduated from Curtin University with a PhD in Computing in and furthered his pursuit as Research Doctorate at Binus University.
Dr Tony Tsang Siu Hon
Tony is a renowned Research Scientist with [email protected] in the field of material studies of carbon based nanoclusters materials and 2D materials. He joined CNRS International NTU THALES Research Alliance (CINTRA) as a Research Fellow to pursue his interest in system development for carbon based nanomaterials applications in 2011. Tony received his PhD in Electrical and Electronic Engineering from Nanyang Technological University in the same year.
Assoc Prof Teo Hang Tong Edwin
Dr. Teo received his BEng degree and his Ph.D. in Electrical and Electronic Engineering (EEE) from Nanyang Technological University (NTU) in 2004 and 2009 respectively. He was a postdoctoral fellow at the Solid State Institute and Russell Berrie Nanotechnology Institute at the Technion in 2008-10. In 2010, he was awarded the Nanyang-DSO Post-Doctoral Fellowship at Temasek [email protected] In Dec 2012 he joined NTU as an Assistant Professor at the School of EEE.
Gayan Samarakoon
Specialising in Equity and Cryptocurrency markets with a focus on statistical arbitrage, intraday high frequency trading and machine learning. Significant experience in proprietary trading, recruitment, risk, compliance, and investor relations. Held multiple senior management roles across Retail, FMCG and Healthcare sectors. Seasoned entrepreneur who has co-founded multiple start-ups ranging from aviation, pharma, eCommerce and multimedia. Obtained his tertiary qualifications from Macquarie University Sydney, University of Otago New Zealand, and Massachusetts Institute of Technology Boston.
Kenneth
Kenneth has been working in the technology industry for over 9 years, he is responsible for building up technical teams, designing high level system architecture for different type of systems and manages the operation & support team to ensure the stability of the systems. He has prior experiences in building semi-automated forces for simulators as a software engineer and progresses to become a Technical Manager managing and leading project developments of various size.
Levon Aleksandr
Specialization of sports trading with design and implementation various strategies, intraday stock trading with a focus on statistical arbitrage. Significant experience as a trader in a Russian bookmaker company. Also has experience in corporate finance, KPMG. Received a master's degree in corporate finance.
Jackson Png
Jackson's journey in digital marketing began with a creative and bold vision. Over 10 of growth hacking experience has established him as a highly sought-after marketer in industries across information technology, finance, hospitality and lifestye. With a clear direction to create a robust brand story for SnapBots, Jackson oversees 2 regional teams in the main pillars of ICO marketing, PR and community development efforts.
So Kai Tong
Mr So Kai Tong is experienced Chief Executive Officer with a demonstrated history of working in the investment management industry. Mr So Kai Tong expert in Derivatives, Equities, Metals, Capital Markets, and Philanthropy. Mr So Kai Tong has strong business development professional with a Bachelor of Engineering (B.Eng.) focused in Mechanical Engineering from Nanyang Technological University.
Patrick Chen
A 30-year veteran in the life insurance industry, Mr Chen's wide-ranging experience includes product development, marketing, operations, bancassurance and customer service for both retail and high networth markets. Mr Patrick Chen is currently the Head of Operations of Swiss Life (Singapore) Pte Ltd, a leading provider of HNWI solutions in Asia. Prior to joining Swiss Life in 2013, he was the Chief Operations Officer of Great Eastern Life and General Manager of United Overseas Bank Life Assurance. From 1989 to 2003, he held various positions in Prudential Assurance Co Singapore in actuarial, operations, audit & compliance. In Asia, he started his career with American International Assurance in Hong Kong. Mr Chen has a BSc Hons in Actuarial Science from the London School of Economics, England.
Dr Ben Yun
Ben Has over 10 years of experience in Forex trading and Risk Management, Ben is an experienced forex trader. His trading basket includes forex, indices, gold/silver,crude oil, BTC, stock shares etc. He has his special view on speculative markets and developed a set of strategies based on technical analysis and passed the backtesting over all products. Ben obtained his PhD in Electrical and Computer Engineering from National University of Singapore in 2008.
Kenneth Oh
Mr Kenneth Oh is a senior partner in Dentons Rodyk's Corporate practice, and also a partner in the firm's China Practice and Indonesia practice. He has been in legal practice since 1999 and focus mainly in the areas of corporate finance and mergers & acquisitions, with a focus on equity capital markets transactions involving IPOs and RTOs of Singapore and foreign companies, in particular of China, Taiwan and Indonesia companies and businesses on the Main Board of and Catalist bourse of the Singapore Exchange; as well as secondary capital market issues including secondary listings, secondary post-listing fund raising such as rights issue and placements, and post-listing advisory and compliance. He also advise on capital markets licensing and compliance, and on a wide range of general corporate advisory work for both public listed and private companies including private equity investments, joint ventures, corporate restructurings, debt restructuring and franchising.
Tan Duong
Tan is a passionate Software Engineer who was a General Manager, Product Manager, Project Manager, Technical Leader who is very strong in software development with 9 years experience and who always works with full passion and responsibility. He is also a certified Dell Boomi Professional who specializing in data and application integration, B2B EDI, blockchain etc.
Donna Lee
Possessing over 7 years in B2B marketing, she played key roles in various projects, focusing on the development of all B2B Marketing's products and services. She has over 5 years of experience in managing a country office in Asia for Fintech company. As a true cryptocurrency enthusiast, she has launched OTC channel in South Korea and educated numerous people how to trade crypto in Thailand since early 2017.
Amin Sukiswan
With over 24 years of experience in various industries, Amin is an innovative entrepreneur with a particular excellence in the IT and manufacturing industries. He previously founded Batavianet, a leading e-business solutions provider, and Indocyber, which worked on the first mobile banking project in Indonesia. He has since developed not only a diverse skillset in communication, leadership, and analysis, but has also built a strong network of entrepreneurs, SMEs, and corporations around Indonesia and East Asia through his experience in the IT and manufacturing industries.
人工智能软件机器人
SnapBots将寻求增加Snap Pool的储备,其机器人将通过其人工智能能力参与活动。
焚毁
一些机器人会通过使用而烧毁SnapBots令牌。例如,我们可以收取一定数量的SnapBots令牌使用Faceswap或财富咨询机器人。这将减少分配中的令牌总数。
7/24交易
这些机器人要么在履行职责时赚取其他代币。这些令牌将有助于支持SnapBots池的池。
虚拟货币价值的增值
Token值=总POOL/总#
Snapbot 代币持有者可以通过以下三种方式获得:
令牌的加密值增加
随着代币使用量的增加
增加人会想买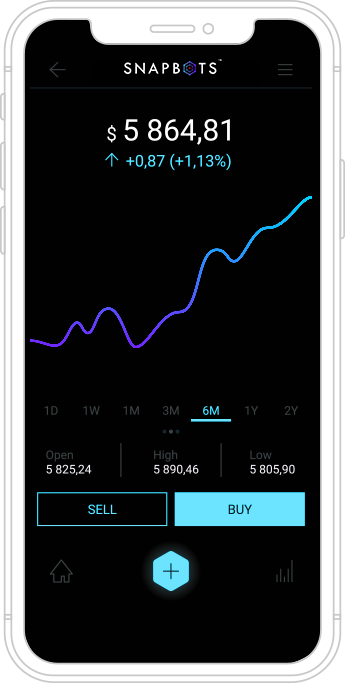 SGX-Mainboard listed Citicode Ltd, via its subsidiary Citicode Corporation Pte Ltd, has formed a strategic joint venture

An MOU (Memorandum of Understanding) signed between COSS Pte Ltd and Snap Innovations signed on the 21st of Feb

A Memorandum of Understanding ("MOU") between CBX and SNAP Innovations was signed on 23rd January 2019 to
申请成为SnapBots人工智能区块链开发者

SnapBots正在寻找一个具有加密货币和区块链概念的广泛知识的、主动的和经验丰富的开发人员。快来加入我们吧!

可供开发的项目清单

您将帮助SnapBot开发和启动我们即将到来的区块链平台,并帮助驱动我们所有未来的基于区块链的项目。

提交您的想法,以参与SnapBots协议

您的成果将直接影响SnapBot生态系统的核心架构。